Some of you might recall that Elvis is married to Canada's very own Diana Krall. I saw her in concert in London a couple of years ago, and she kept making snide jokes about growing up with kids that only wanted to listen to Elvis' "Pump it Up" while she preferred classical music. Half way through the performance, she asked the audience for any requests. I stood up and yelled "Play Pump it Up!
She did not indulge me.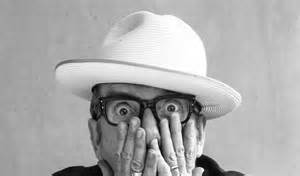 That reminds me of another story involving one of HBDC's very first loan clients. He was a performer in need of a new guitar, and we provided the financing. That was the last we ever saw of him until he returned to the area about 5 years later and did a concert in Goderich. I had this picture in my head of him asking the Livery audience if there were any requests and Jim Niesen standing up to ask "Yes, can you please pay back your loan?".
Have a great weekend everyone.